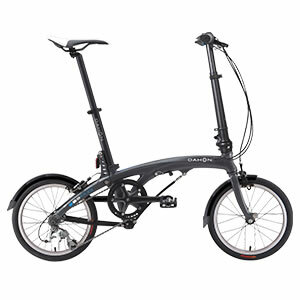 The Dahon EEZZ D3 is the most compact as well as the easiest folding and unfolding bike on the market. It has 16" wheels and tires, and the new vertical fold Frame hinge.
Features:
Super Easy folding and unfolding
Lightest aluminum frame anywhere
Easy to ride and carry
Folds to suitcasable dimensions
Winner of the first Taipei Design and Innovation Award
This bike is a masterpiece.
The EEZZ D3 3-Speed builds on the previous
model's best features, updating them for 2015.
Folding and storing this bike is as 'easy' as
the name suggests, whilst the addition of a
3-speed Shimano compact rear derailleur and micro
shifter increases the bike's range and
convenience.
Weight : 9.8 kg (21.6 lbs)
Folded Size : 65 x 27 x 62cm (25.6" x 10.6" x 24.4")
Frame : Hydroformed Dalloy Aluminum with integrated Jiffold Vertical Hinge Technology
Fork : Lightweight and Responsive Dalloy Aluminum, w/ Integrated Crown
Handlepost : Radius V, adjustable, patented Fusion, Telescopic, and V-Clamp technologies, forged aluminum
Drivetrain : 3 Speed DAHON rear derailleur, Freewheel 9/11/13
Wheels : 16" Aluminum Double Wall Rims with 20 Hole Compact Front Hubs and 28 Hole Compact Rear Hubs
Brakes : DAHON dual Pivot Alloy caliper brakes